Review Summary
Extenze (plus) is a sexual enhancement pill whose demand has hit the roof since Biotab Nutraceuticals introduced it in the market as an upgrade for the previously existing Extenze formula.
Its popularity can largely be attributed to the fact that it is readily available over-the-counter and also because results are felt faster than those of VigRX plus, the only other erection pill with a similar demand.
There has been no scientific testing on the Extenze plus, but the high demand has to be evidence of some positive results.
Biotab claim using Extenze Plus can cause an increase in the size of the penis.
Sorry to pop that bubble but that is not true. At best, the increase is only minimal and limted to the duration of use.
The claim of an increase in the penile shaft size has in landed the manufacturers in murky legal waters in the past but they still cling to it.
However there are some other claims which actually turn out to be true. We will talk about them in a minute!
Extenze (Plus) pill comes in a gel cap which has been designed for a slow, extended release.
This is meant to reduce the intensity with which it takes effect and increase the duration for which it remains active within the body. The manufacturer directs that the pills are taken in the morning with breakfast but there is no harm popping them an hour to action time.
Extenze plus pills are available on Biotab's website and also from retail outlets. There is a free 60-day trial window only applicable if you buy from the manufacturer's official site.
Still curious? Read on for the full details.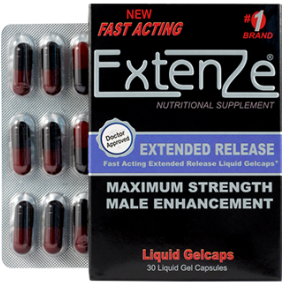 Detailed Review
What is Extenze Plus?
This is a male sexual enhancement herb made from a herbal formula. It comes in form of gel caps packed in a black casing. It is an upgrade of the Extenze tablets which were formerly sold in a white casing.
The switch from tabs to liquid gel was to enhance a smoother absorption into the body. An extended-release formula ensures each ingredient is released gradually into the body, ensuring the effects do last longer.
Like any other sexual enhancer, Extenze (plus) looks to increase testosterone production and blood flow to the sexual organs.
Manufacturers say the pill will:
Make it easier to get an erection
Make erections larger and firmer ( the argument for increased penile size lies here)
Prevent premature ejaculation
Give the use greater sexual energy, and when it's finally time,
Give a more satisfying orgasm
Extenze Plus ingredients
22 ingredients go into the Extenze plus boiling pot, some of them in minute quantities.
The major ingredients are herbal products that seek to stimulate the brain, increase blood flow and raise energy levels. This is similar to other pills such as the VigRX for example.
The result of this combined effort is an increased virility and improved mood.
Major ingredients include:
Yohimbe Bark
Epimedium(Horny goat weed ) leaf
Piper longum seed
Black pepper seed
Tribulus Terrestris fruit
Korean ginseng root
Pumpkin seed
Hops
Folic acid
Aminobutyric acid
Most of these herbal products have been traditionally believed in different parts of the world to increase libido.
Scientific observation has proven the same and combining them has yielded a profound effect. Folic and amino acids are added to counter potential side effects.
How is it taken?
The most conventional way of taking an Extenze pill is to just pop the capsule from the package and swallow, same as others like Male Extra.
If one feels the need to, it is fine to swallow it with a glass of water. Some people, however, prefer to pop the capsule itself and swallow the gel directly.
There is no real harm in doing this but it negates the extended-release function and may reduce the length of time the effects remain active in the body.
There is also the option of taking the gel from a drink can, but these are very rare and more difficult to find.
How long does it take for effect and how much does it last?
While its results are felt faster than those of the VigRX, it is important to note that Extenze (Plus) is not an instant erection pill.
The manufacturer recommends that a single pill is taken every morning at the breakfast table. Well, not literally, but placing it there prevents forgetting.
People have different daily schedules though, and it is fine to just take the pill at the time of one's convenience. It makes no sense avoiding an Extenze Plus pill knowing well that a hot date is coming through. The effects usually begin to be felt half an hour to 45 minutes after swallowing. This should be a good time to pop the pill if needs dictate so.
The 45-minute 'pre-match warm-up' can give results that will last anywhere between four and six hours. That should really be enough, no?
As one gets by, it is possible to test tolerance and take the pill on a less-than-full stomach. Care to remember, though, that food is the primary source of energy required for sex.
Are there any side effects?
The stimulant ingredient Yohimbe could react badly with patients on diabetes medication or people with heart, kidney or liver problems.
Other people without special conditions should generally be okay with these pills, save for a little dehydration which can be easily countered with a glass of water.
Where can I buy Extenze (Plus) and for how much?
Extenze (Plus) is available over the counter in most supplement stores within the country. GNC retail outlets are especially popular stockists of the product.
The better alternative is to buy directly from Biotab's website. The delivery may take a bit longer, but this option comes with the money-back guarantee in case one is not satisfied with the pills.
There is, however, no money-back on the shipping fee.
Purchase from the official site can be made in packs of five tabs which retail for $36 or for $160 for a three-month supply. Independent outlets sell within this range too.
Moneyback guarantee and free trial
Biotab allows users to try the Extenze (plus) pills for a free period of 60-days.
If a user is not satisfied with the product within this window, there is a full money back guarantee. There is, however, no refund for the shipping fee.
The guarantee applies only to pills bought directly from the official website and can only be effected upon production of an empty pill case.
Verdict
On what they promise Extenze Plus pills really deliver. The new formula has greatly improved on what was the original Extenze tablet.
Of note is the extended release formula that makes the pill take effect gradually rather than hitting the user abruptly.
The formula also ensures that the desired effect lasts much longer, which is a big win for all users. Again, the effective-on-need basis of these pills is such an adorable feature.
You really can't go wrong with the Extenze (Plus) sex enhancement pill.
Well, except if penis enlargement is your only goal! Then you should rather check out a device like the bathmate or the phallosan forte!

Was last modified
13 February 2018
by