> NEW! Check out our Free 30 Day Training Schedule in the End! <<<
Let's start with a statement about his results with jelqing from John over at Steadyhealth who is obviously doing it wrong…. I will tell you later on why

Jelqing is a technique that offers loads of benefits to men… and the women in their lives, for that matter. This is an already well-known method of increasing penis size, but it has also been found to help with lasting longer in bed.
The exercise is pretty easy and since you're well accustomed to playing with your willy, you might as well put all those "efforts" to better use.
Now let's stop with this prelude and get down to it.
Here's all you need to know about this technique, how it works, and how to do it to achieve your goal of lasting longer in bed by jelqing.
What Is Jelqing?
Jelqing, or The Jelq, is a penis enlargement exercise that can add up to two inches to both length, and girth.
It has been a practice in the US since the 1970s, and the word actually means "milking."…
Now, we already know you're quite familiar with milking yourself when you're feeling frisky, but The Jelq is actually serious business!
This is a rather controversial technique as it can pose threats to your penis. We will tell you more about the risks in a minute…
This is because you'll need to massage, pull, and stretch your penis to force blood flow to the tip.
So it would be best to get in touch with your sensitive side and be gentle, especially if it's your first time.
Note: Jelqing is a great alternative to using a Penis Pump. Read all about our Favorit in our Bathmate Review here!
How Does It Work?
This exercise improves the penile system by increasing blood circulation to the corpora cavernosa effectively.
Corpora cavernosa is made of two chambers present on both sides of the penis, presenting spongy tissues filled with blood. When you apply pressure to it, it results in an erection.
Doing jelqing exercises means you'll improve both blood flow, and skin elasticity.
As a result, you'll get bigger and stronger erections.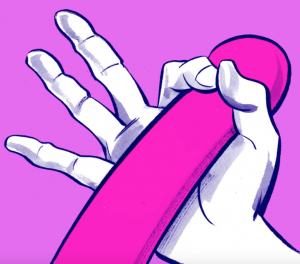 The Jelq requires only the use of your hands, and all you need to do is continue with a massaging movement for a few minutes.
You should see real results in a couple of months, so it's one of those things you need to be persistent with. This obviously requires you to know your exact size in the first place!
The most common method is to form an OK sign with your fingers around your (semi-hard) penis and apply pressure to it, stroking upward.
Afterward, simply pray to any sex god you know that your penis gets engorged with blood.
What Before and After Change to Expect from this Exercise?
The Good:
You'll grow at least one inch in size – added length and girth.
The results seem to be permanent if you do the exercises correctly.
Your partner will probably have to rest the whole day after doing the naughty because you've worn her out with your long-lasting erection.
Possible problems:
You'll see red, purple or black spots on your pride and joy. It's because of not warming up properly. Don't worry, it's usually not dangerous.
Donut-like swelling. This is a common problem you may observe at the end of the shaft or in the foreskin, and is caused by too much fluid accumulation. It usually subsides in a couple of hours or less.
Shrinkage. Some jelqers will be surprised to notice some shrinkage after gaining an inch or two. This is because you've done the exercises wrong. The trick is to give your penis a break once in a while, but still be consistent with the routine.
How to Jelq
It takes time and dedication to achieve the best results.
The following are a few methods to incorporate in a 30-day routine.
You can work with these techniques for 2 to 5 days a week.
Keep in mind that your penis needs rest, and this means you will need to allow at least one day of rest between sessions.
The Two Types of Jelqing
Wet Jelqing. – This exercise uses lubricants and seems to be the preferred method for most men. It performs harder and tougher than dry jelqing and draws more blood.
Dry Jelqing. – By choosing this method, you can skip the lubrication part. Some men who prefer this technique say it is less tiring than wet jelqing, and are inclined to do more repetitions.
Step-by-Step Jelqing Exercise
First, lubricate. This is a very important step because of the pressure you're going to apply on your penis. You're also better off keeping your penis comfy by lubricating it well.
This is the fun part, as you'll need to bring your penis to an erection level of 50 to 75% percent. You're probably a master of giving yourself a boner but don't get carried away! It is not advised to perform jelqing with a full erection.
It's now time to get started, and we suggest using the OK-grip method. So use your thumb and pointer to form a circle.
Apply pressure. Move your fingers up the penis slowly. You need to apply intense pressure, but it should not hurt when you do this exercise.
Stop the exercise before reaching the glans. Each stroke should last for up to 3 seconds.
Repeat. After completing your first jelq, it's time to repeat the process again. You can use the other hand as well.
Exercise Variations
There are other exercises besides the OK-grip, and here are your other options:
Side Jelqing. This technique can also help with fixing the curvature of the penis by performing it opposite to the direction of the curve. You'll need to do it at about 75% erection level; as with other techniques, your penis mustn't be fully erect.
V-jelqing. As the name suggests, to perform this technique you will need to form a V using the index and middle finger. With the palm facing toward you, stroke in an upward direction.
The Free 4-week Training Plan
As you can see, these exercises are easy, and you'll get the hang of them in no time.
You'll have no problem completing the recommended 100 jelqs in about five minutes.
Here's how you can incorporate these techniques into your first month of doing The Jelq:
First week: Just one session of about 5 minutes with up to 100 strokes.
Second week: Two sessions of about 5 minutes each with up to 100 strokes per session.
Third week: Two sessions of about 5 minutes each with up to 150 strokes per session.
Fourth week: Two sessions of about 10 minutes each with up to 300 strokes per session.
There you have it – your 30-day plan that can help you enlarge your penis naturally and last longer in bed.
Remember that applying too much pressure or overdoing these exercises won't help in any way.
Keep it under 5 sessions per week, get enough rest, and be patient in waiting for the results.
Now unbuckle that belt, pull out your wiener, and start stroking away like there's no tomorrow!
Update: I just found a nice video which is giving you some good ideas if you still don't know how to do it! Check it out below!

Go Back to PumpItBig.com
Was last modified
13 February 2019
by